Food packaging manufacturer Huhtamaki, encourages entrepreneurial spirit and strives to trust and empower individuals. To make a step-change in these areas they decided to complement their operational and leadership development programme with a developing leaders programme.
From a top-down model to a collaborative approach, is how Production Manager, Clinton Sampson, describes the culture shift they set in motion. Clinton recalls staff who were reluctant to speak up or make decisions, would line up and wait for instructions outside the supervisor's door where the buck stopped. "Supervisors were policemen, not managers", he said. "There were limited reporting lines and a culture of staff not putting their hands up."
Established in 1939, Huhtamaki Henderson Ltd has been manufacturing in Henderson, Auckland, since 1962. Around 320 staff work three separate shifts to produce products around the clock – for FMCG, pharmaceutical and similar industries – that require specific safety systems and externally certified hygiene standards.
Committed to being a supportive employer to its community of long-serving employees, Huhtamaki were considering training options for its culturally diverse team: 20 percent identify as Maori, 30 percent as Pasifika, and for many employees, English isn't a first language.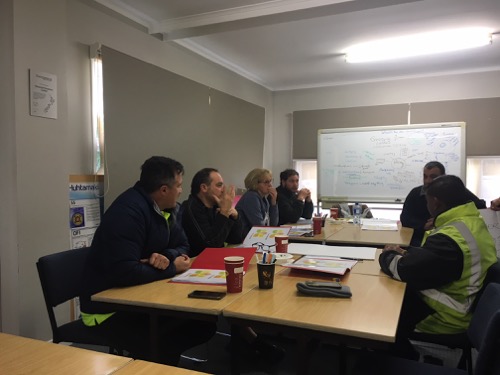 Together with improving the company culture, Huhtamaki wanted to address some issues with communication, quality, and health and safety processes. Funding for a workplace literacy and numeracy programme was sought with training provider New Zealand Academic and Learning Institute (NZALI). "We insist that the companies we work with bring their management and front line supervisory staff to the table with workplace literacy and numeracy programmes," says NZALI
Director, Nazli Effendi. "This is vital for the effectiveness and sustainability of the programme".
That made sense to the Huhtamaki Henderson Management Team who agreed another layer of accountability was necessary for the shift supervisors to be truly effective. A group of 'emerging leaders' was selected to support the supervisors and complete a tailored training programme with NZALI. Clinton has already observed some noticeable changes among the group, and Ivan Zhao, Learning and Development Co-ordinator, says trainees "Feel proud and recognised because of participating in the training".
Frank, a Team Leader and 'emerging leader', says he has shifted his focus to empowering operators to take responsibility. "You're the team leader of your machine!" he says, commenting on the noticeable results of better communication, and 'above the line' behaviour (ownership, accountability and responsibility). As operators are more proactive and communicative, the changeover process between shifts has become smoother, down-time has reduced, machinery has been made more efficient, and the product has become more profitable. "We're using the training!"
Jandy, Inwards Goods Administrator, says she values the new cross-business perspective from 'emerging leaders', and the opportunity to think about things from the managers' point of view. "We all need to interact, to see the whole picture." John, another emerging leader, says the training has had a marked impact on his work and family life. "It changes the way you think and act as a person."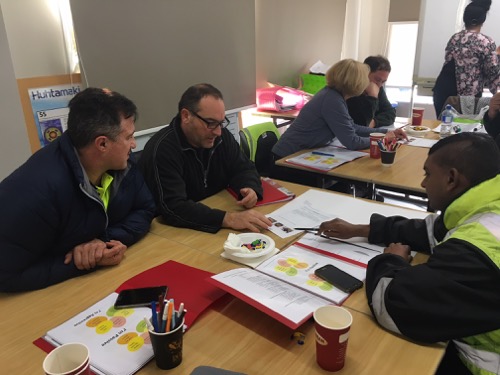 Crucial to the success of the programme is the participation of senior management. This training is funded by the company as part of their commitment to the sustainability of the government-funded training. All levels of the company are exposed to similar training, developing and sharing a common language and mindset.
Mark, a Shift Supervisor, is working on his listening skills and enjoying the new conversations the programme has enabled across the company. In return, he is relishing the changes the programme has made with front-line supervisors, who now feel empowered to make decisions and no longer have to wait for Clinton's 'say-so'.
"There is a better atmosphere and we are seeing greater levels of diffused responsibility and 'just-in-time' decision-making," says Clinton Sampson. "Staff are learning to work with what's in their control and to use problem-solving techniques early in the process."
This Eastern Bay Chamber initiative has enabled a co-ordinated and collaborative approach across sectors, and has enriched the conversation around literacy and numeracy in the workplace in the Eastern Bay of Plenty.
Source: http://www.skillshighway.govt.nz/success-stories/workplace-training-comes-with-big-picture-culture-shift-for-huhtamaki?mc_cid=66bcfa7abe&mc_eid=b0f1c2f463